♦ Doorbell Button and Intercom Styles ♦ Color Choices ♦ Installation Instructions ♦ Testimonials ♦ Site Map ♦
♦ Order a Doorbell or Intercom ♦ In The News ♦ Contact Us ♦ Payments ♦ Links ♦ FAQs ♦ Home ♦
Narrow Doorbell Buttons
Click on the pictures for more details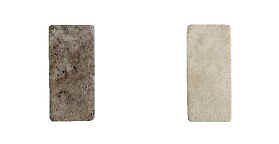 The above 2" x 4" travertines are standard stones and can be viewed with all accents through our BYO tool

These are more custom made versions...
These start at $35 and go up...depending on what you need.
We can make just about anything!!



We can make just about any size you need, however the more narrow
the doorbell, the fewer accent piece options you will have.
All buttons are illuminated unless otherwise requested!
© Copyright 2001-2012 CustomDoorbell, All rights reserved.