no solicitor, no solicitors, plaque, sign, no soliciting


♦ Doorbell Button and Intercom Styles ♦ Color Choices ♦ Installation Instructions ♦ Testimonials ♦ Site Map ♦
♦ Order a Doorbell or Intercom ♦ In The News ♦ Contact Us ♦ Payments ♦ Links ♦ FAQs ♦ Home ♦
No Solicitors Door Plaque or Doorbell
Made of either BRONZE or PEWTER
Can be made with or without the stone (select NO STONE for w/o)
Stones Measure approximately 5.25" tip to tip, 4" side to side.
Plaque is 3.75" x 1.75" alone.
Adhesive and installation kit provided.
NEW LOWER PRICES!!!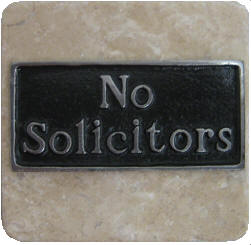 Pewter shown here, all others Bronze
DOORBELL OPTIONS
Delivery within Lower US included. Contact us for Canada, AK, and HI.
ANY INSCRIPTION AVAILABLE!!! CONTACT US!
Click here to see the stone choices
♦ Doorbell Button and Intercom Styles ♦ Color Choices ♦ Installation Instructions ♦ Testimonials ♦ Site Map ♦
♦ Order a Doorbell or Intercom ♦ In The News ♦ Contact Us ♦ Payments ♦ Links ♦ FAQs ♦ Home ♦
© Copyright 2001-2012 CustomDoorbell, All rights reserved.
no solicitor, no solicitors, plaque, sign, no soliciting